Hello and I hope everyone had a great summer, I know mine was pretty relaxing.  Hopefully you've got a few minutes to spare as this newsletter is a little lengthy. 
Rock Opera 
During the early summer the Rock Opera was mastered by Bassist, Engineer and Mastering guy Frank Heisler.  For those who might not know, Frank was the bassist for the Wilton Said… band from 2001 on and off through to 2015.  He also played bass on this Rock Opera recording.  Many thanks again Frank for all you've done.  So musically and sonically, everything is complete. 
During the fall, Barry Brown (drummer, lyricist, composer) and I worked on the design for the PDF and CD packaging.  So now, almost everything to do with online digital sales is done with the music and graphics having been uploaded to both wiltonsaid.com and bandcamp online services.  We are just working on a lyric page to add to these sites.  This brings us to an important piece of information, the title.  Our working titles have been "Rock Opera", "Rocking Rabbit Opera" (based on the movie Rabbit Proof Fence), "The Rock Opera, similar to Jesus Christ Superstar" or "This Thing Which Has Taken 10 Years to do", but as you can see, none are suitable for a real title.  So we took a title of one of the songs which we felt really represented what this was all about.  The title is…. 
ta da… 
"Do You Remember Me?".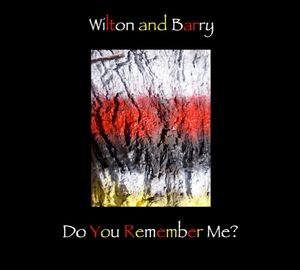 As for CD's, we are both aware that CD's are slowly becoming a thing of the past but still recognize that some people want a tangible object to hold, care for and love.  As a result, we will be doing a short run of CD's (CDR's) which will also have a similar design to the downloads.  However, due to the limited length of CD's and CDR's, the physical product will have a few less songs.  We are still researching the best company to go with and should have a decision in the next few weeks. 
Some people have been asking if we'll have a stage production.  While we would love to have this performed, it is a daunting task to organize and fund.  Thankfully, a good friend of mine has offered to write a script which includes lyrics, character parts and stage directions.  He suggests that approaching a theater company with as much information as possible is the best way to go.  Hopefully we'll be able to get a good draft in the new year. 
This brings us to the topic of release.  There are a few ways to go about this which Barry and I will need to further discuss.  Do we wait for a stage performance and release the CD/Downloads in conjunction with it?  Or, do we release the CD's/Downloads first in hopes that it will promote interest in a performance by a theater company?  Hmmmm.  Personally, I think we should go with option #2.  If anyone has any opinions, we'd love to hear or read them.  Nevertheless, we're hoping for a 2018 release. 
Once again Barry and I would like to thank everyone involved up until now… 
Roy McCandish, Amber Reid, Chris Reid, April Stevens, Glenn Sevillo, Frank Heisler, Andrew Prior and Barb Brown. 
Please stay tuned. 
Wilton Said… 
While the band is on hold, writing for a newer Wilton Said… release has still been going on.  There are now 7 songs written for the release.  This eventual release will have additional major writing credits by friend and bassist Deb Ray and Barry Brown.  Deb Ray was a bass player in my 2nd band Crisis Ten and subbed in on bass in the Wilton Said… band for a few gigs.  He's had a few musical ideas floating around without a home which he's let me use which will be part of a longer multi sectioned epic song called "We Are (the) Silence".  Barry Brown has also contributed lyrics which I really really like called "Something in the Water".  The lyrics inspired me to write music which to my ears is reminiscent  to Kate Bush's song "The Wedding List".  He's also added lyrics to one of the sections of "We Are (the) Silence". 
For this recording, I'll be performing guitar, keyboards and vocals.  Hopefully recording work can begin sometime in 2018. 
Wine 
One of my loves is red wine.  I'm always on the look out, or taste out for a Rustic Red.  I'd love to hear or read of any suggestions. 
Thanks 
Wilton 
P.S. Please feel free to check out the final version of "Children of a Different Kind" below.