The Bio
Wilton Said...   

The Wilton Said... band led by baritone and occasional jazz infused vocalist Wilton has long skirted on the outside of the Pop/Rock genre.  While one could call the music "Art Rock", it still doesn't do justice to the eclectic elements contained in the song writing, arrangements and lyrics.  A bit of Queen, an ounce of Alice Cooper, a dash of Genesis, a cup of Marillion, some Radiohead, Catherine Wheel and The Cure, throw in some Rush and David Bowie, a scoop of The Beatles, a sprinkle of R.E.M., don't forget the Kate Bush, and top it off with some Jazz elements, and the music of Wilton Said... is ready for your listening pleasure.

    It seems that the eclectic nature of the music has had mainstream Pop/Rock listeners scratching their heads.  As a result, you'd think that listeners of more artsy music would be more receptive, but they too end up scratching their heads. It seems that listeners like to peg their music and listening experiences into nice neat holes, and Wilton Said... doesn't do that.  A square peg into a round hole indeed.

    The recorded history of Wilton Said... is a lesson in retro production.  While the majority was done on one form of digital platform or another, he has forsaken the current practice of "fixing" and "perfecting" and instead relies on the edginess of the performance.  Something which used to be important in recordings but now sadly seems to be disappearing.

    Rounded out by various musicians over the years, Wilton Said…  transforms the sonic landscape into a dramatic, dynamic and eclectic Indie Art Rock journey.
Wilton - Vocals, Keyboards and Kazoo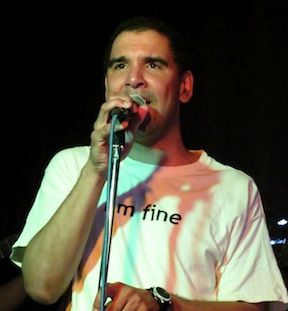 In addition to Vocals, Keys, and Kazoo, Wilton is also an accomplished electric and acoustic guitar player which he sometimes picks up to curb boredom.  He also writes, engineers and produces his own releases.  In his spare time, Wilton can often be found searching for that elusive dark, rich, rustic red wine.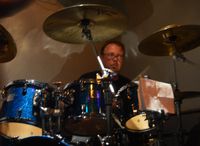 Peter Karppi - Drums. 2014 till 2015.
Peter has been playing drums since the age of ten and has studied with Dan Bodanis, Joe Vitelli as well as others. Influenced by all the great drummers, Steve Gadd, Vinnie Colaiuta, Buddy Rich, Dave Weckl, Gavin harrison & Neil Peart, he prefers to compose his drum parts to enhance a song rather then use the song to enhance his drum parts.  
In non drumming life, he likes to spend time with his family, cycle & fish. He's also a full time Graphic Designer and Premedia specialist for the printing industry.  (This came in handy when designing fliers and release covers.)  
Peters drumming is featured on the unreleased Tremble recording.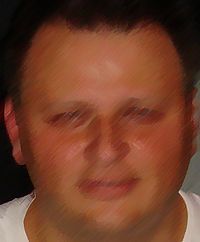 Richard Rizzo - Drums - Live/Studio - 2002 to 2013
Previous to being in Wilton Said..., Richard lived in Malta, a small island just south of Italy where the temperatures are warm, the drinking, driving laws are more relaxed and everyone talks with a bit of an accent.  He was also in a Progressive Rock band whose claim to fame was opening for ex-Marillion vocalist Fish.Though Richard sights Rush and Dream Theater as influences, he is not the "wild hit as many toms and cymbals as you can" type of player. Instead, Richard focuses on groove, timing and complementing the song.
As of late 2013, Richard Rizzo spends time with his family and rocking out with various Toronto bands.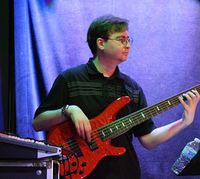 Frank Heisler - Bass - Live and Studio - 2001 to 2002/2007 to 2011/2014 to 2015
Frank has been bringing his smooth styled rumblings to the Wilton Said... band on and off from 2001 to the present.  His groove and grounded style help give a foundation to the sometimes manic nature of the music.  In addition to W.S., Frank can be heard playing in any number of various other bands which allow him to keep his chops in good working order.  His groovey chops can be heard on Half Life,  as well as the Rock Opera "Do You Remember Me?".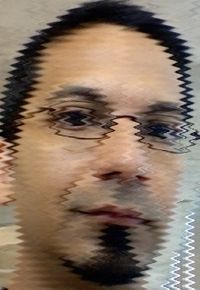 Deb Ray - Bass - Live 2011 to 2013
Deb's relationship to Wilton goes back about 18 years when in the middle of November 1993, a guy in shorts and a t-shirt appeared for a bass audition to one of Wilton's early bands Crisis Ten. He of course passed and spent about 21/2 years playing along side Wilton where he also came up with the verse sections to the song "Shopping Asia".  After the break up of the band, Deb went on to concentrate on more jazzy styles and raising a family. Recently, he's been spending his time playing with rock band Blatant Female Conspiracy slipping in Jazzy 9ths below the route style of playing hoping no one in the band will notice.  He had filled in on Bass when Frank Heisler had to depart due to medical reasons but has now decided to go back to being a full time full fledged family man.
Deb's playing can be heard on song selections off of
World up my Ass
.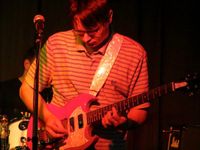 Chris Reid - 1997 - 2015
Chris was the longest standing member in the band and resident shoegazer having played with Wilton as far back as 1997.  In addition to Guitar, Chris is an accomplished bass player, writer, engineer, keyboard player, dental hygenist and possible neurosurgeon.  His angular guitar playing helps give the music of Wilton Said... it's edge and grit.  His guitar playing can be heard on Wilton Said... recordings  
The Butterfly Plague
,
The View
,
Half Life
and the digital download single
Pretty
.  His bass playing can be heard on
World up my Ass
, and the Wilton Said... Cassette.
His backing vocals can be heard on the song Broken Mind off of
Broken
.  He also sang one of the character parts on the Rock Opera "
Do You Remember Me
?
"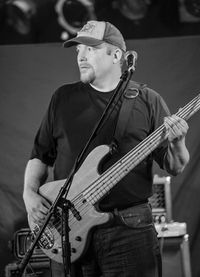 Andrew Buntian - Bass - Live and Studio - 2002 to 2006
Andrew Buntain, has been playing bass for over 15 years and has played for many independent Canadian artists, including songwriter Zak Peters and various other funk/rock acts. He began playing in his high school stage band, where he worked in jazz and funk stylings to go with his original love of progressive music. In 1995, he suffered an accident which resulted in several cuts to his left hand, requiring plastic surgery and nerve damage repair. Dejected, he left the bass alone for almost two years - but he never stopped listening. A good friend got him to appreciate his own talent once again, so Andrew went back to the instrument with renewed determination to become the best bass player anyone could ask for.
Today, Andrew is in great demand for live projects and studio sessions. He keeps a solid groove and is well-known for his slap bass and tapping work.
Andrew's playing can be heard on the WS releases The View, The Butterfly Plague, and the digital download single Pretty.
Other Artists Worked With